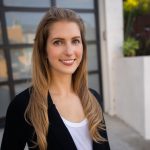 Martha Golonko
Realtor® | DRE# 02143438
A little about me
As a new homeowner herself, Martha can't picture herself anywhere but San Francisco.
Originally from Chicago, Martha grew up in a Polish family of accountants and carpenters, giving her a natural disposition for numbers and home improvement. She received a BA in Mathematics from Northwestern University and an MEd in Education from Boston College, as she initially started her career as a mathematics teacher.
Martha made the transition as Head of Mathematics at the French American International School in San Francisco to Realtor at Compass in 2021 to combine work with her passions in real estate. She truly values establishing meaningful relationships with her clients and sharing her knowledge of everything San Francisco—the market, architecture, neighborhoods, etc.!
Martha is a true advocate for her clients, listening to their every need and having the patience of a saint. Her experience working with investors, project managing renovations, and leasing gives her another perspective of the San Francisco market as a whole. Homeownership is a personal journey and Martha ensures that every client is met with personal attention and the highest level of integrity.